Meridian Student Planners provides premium school planners for every age group.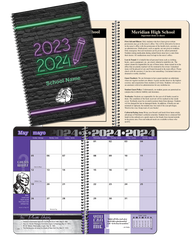 High School
A compact planner that will keep your high school students organized.
Our high school student planner focuses on successful study habits and organizational skills needed for everyday high school life.
High School
Middle School
A versatile student planner created to prepare students for high school.
Our middle school student planner focuses on study tips, time management skills and parent/teacher communication.
Middle School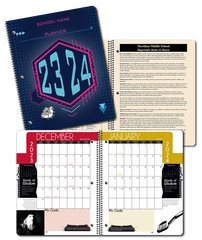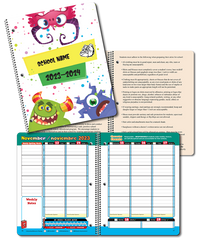 Elementary School
A practical planner for grades 3-5 made to guide students through daily school activities.
Our elementary student planner focuses on daily subject tracking, spelling words and parent/teacher communication.
Elementary School
Primary School
A practical planner for K-2 students to practice skills needed to read and write.
Our primary student planner focuses on parent/teacher communication.
Primary School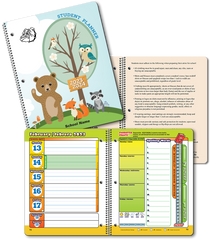 Teacher Planner
Specialized for teachers, these Teacher Planners include sections of student grade records, seating changes and lesson plans.
Teacher Planner
Undated Student Planners
Our Undated Planner is the best budget-friendlyoption for your school. A black and white planner designed with educationalresource pages, weekly calendar pages, and a double laminated cover.
Undated Planners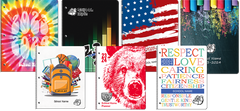 Cover Inspiration
New! The laminated covers include a silver ion anti-microbial material to help keep the laminated cover fresh and clean. You get the same high quality, durable cover that resists odors and spoilage.
The cover you select for your planner is an important choice.
Students will carry around the planner all year so choose something that properly reflects your school. Browse our selection of professionally designed FREE covers for each age group.
View Cover Options
Have a Sponsor PAY for your Student Planners!
Budgets are limited when it comes to purchasing student planners; why not have local businesses help YOU reduce the cost of your planners? We put together a kit that will help you sell advertising spots in your student planners. These ads can help offset the cost of your planners.
Click here to view our FREE sponsorship kit!